Edit: 2014 edition also available
On Sunday, I'm hosting a party. I am super excited about this party. I've got some great tips from around the web for fun things. I'm making little cardstock statues (via
Twig & Thistle
), have some awesome little chocolate moulds I ordered from afar and have some gold dusting powder at the ready, and I'll be printing off pretty Oscar ballots and bingo cards (via
How About Orange
). Cupcakes in fancy wrappers, magic popcorn, homemade dips, fancy jell-o shots: I have a lot planned. I would like to thank the Academy for making such a fun night for movie lovers. Having not been in the US to watch since 2008, this year I'm even more excited than usual. It's not going out in the middle of the night, the broadcast isn't dubbed in a language I do not speak, and I have an excuse to make tiny chocolate statues! What could be better?
Oh, yes. I'll also be taking photos of our party. And while some will very likely end up in my "traditional" scrapbook, I'll definitely be including a few snaps in my Project Life book. And so, there is this: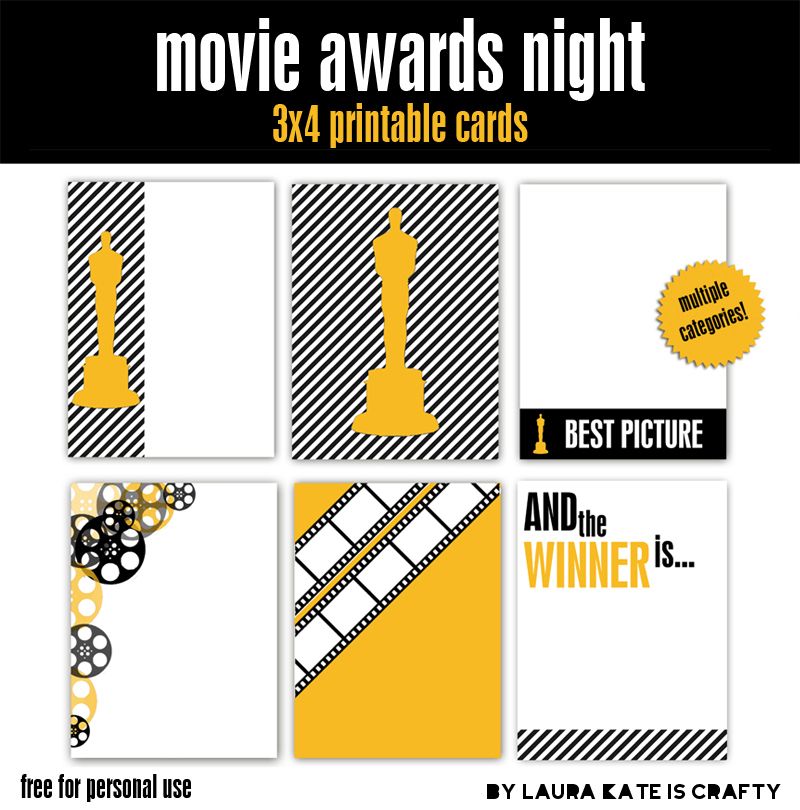 download them > > > here < < <
This freebie is a bit different from others I've offered:
- 6 PNG files
*PNG = Best Picture only.
- PSD categories card = all 24 categories (can I hear it for Best Documentary Short!?)
- 2 PDF pages
*5 main cards
*5 very popular categories that will suit most desires!
I hope you enjoy these cards for a variety of movie-related crafting. As always, I'd love to see what you do with them! Enjoy!