This Sunday is Mother's Day here in the US and in a lot of the rest of the world. It's a great little day. While I won't be spending it with my own mom, I'm glad that I got to spend a few days with her this last weekend. Moms are awesome. My mom is awesome. The older I get, the more I appreciate her. My sister's also turning into a pretty cool mom. Who'd have thunk it? (Surely not me 2 years ago when I learned she'd be having a bambino). Someday I hope to be a mother too. I'd like to think that I'll be pretty decent at the gig, having taught little ones for the better part of 10 years, but I know I'll go through ups and downs like everyone else.
In honor of all the mothers in the world, I created a little Project Life-style freebie card set with some motherly quotes. I had collected quite a few and picking just three was a bit of a challenge. My 2 favorite outtakes were "Whatever else is unsure in this stinking dunghill of a world a mother's love is not." from James Joyce and "If evolution really works, how come mothers only have two hands?" from Milton Berle. The 3 I settled on make me smile, though, and I hope they'll do the same for you.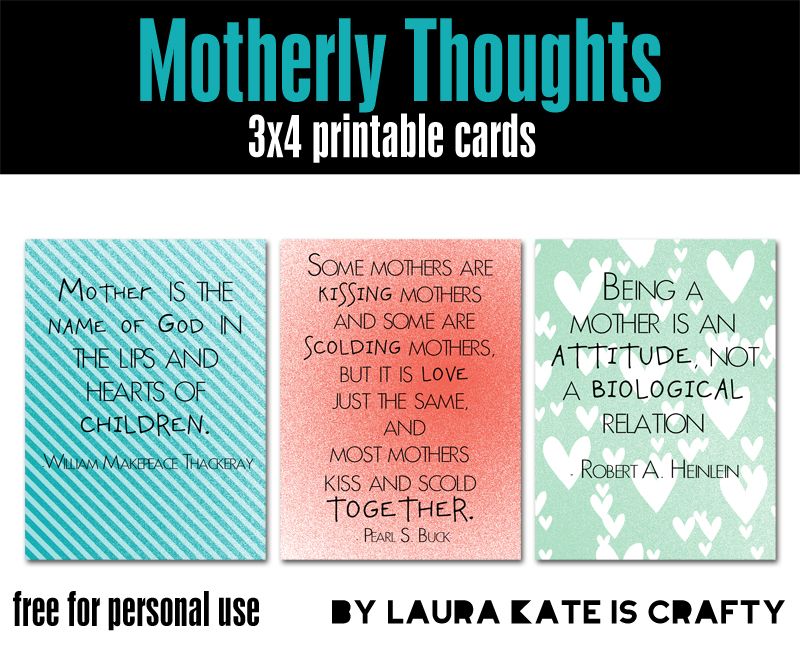 Download them > > > here < < <
As I mentioned in a
recent post
, I really love Kid President. Yesterday, he shared a new video just in time for Mother's Day. For all the moms out there - birth moms, adoptive moms, mother-figures, grandmas, etc. This one's for you!
Happy Mother's Day a few days early from me :)