Admittedly, I'm not the trendiest gal. Be it clothing or crafts, I'm not a big bandwagon-jumper. But then there's neon. It started creeping in last year. In the Spring of 2012 I got a manicure in a bright, neon-hued, orange. I loved it. But I took that as a one-off sort of thing. Then, a year later, the fluorescent shades started showing up in clothes, in accessories, and even a touch in craft products. And right now, I'm kinda loving it. I've been doing neon embroidery, I have a few ridiculously bright pairs of shorts for both exercising and daily wearing, and my neon nail polish collection has expanded a bit. So when I was thinking about what ideas to design next in scrapbooking cards, neon was a no-brainer.
In
my shop
there are 2 new sets. Both featuring 6 neon shades: Neon Basics and Neon Splatters. Each set has 12 3x4 printable cards that are perfect for Project Life or any scrapbooking or paper craft project.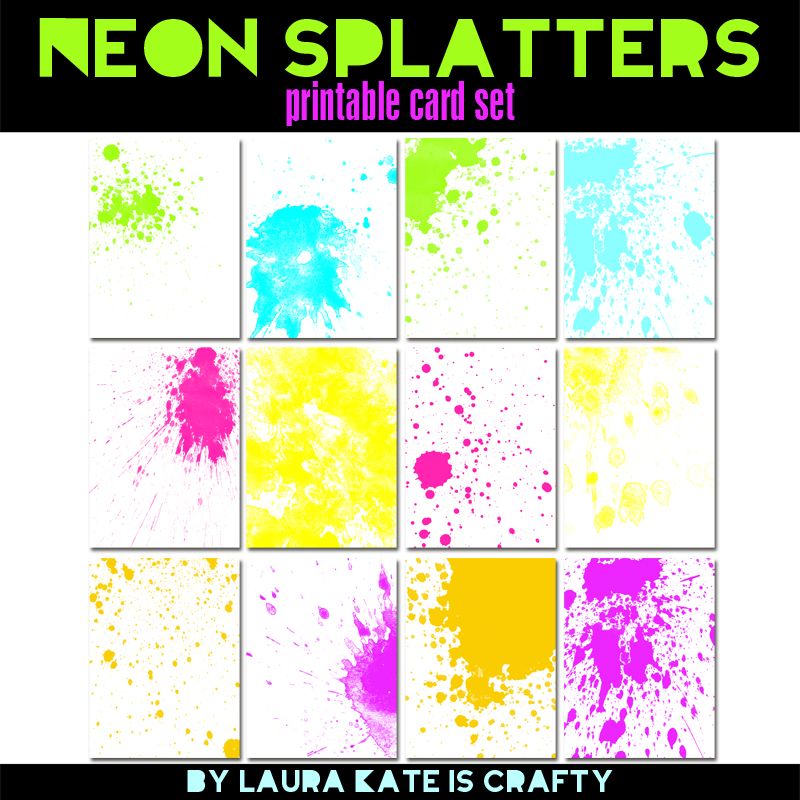 As a side note, I'd noticed that my shop had slowed down a bit and then a couple weeks ago a very kind customer sent a message to let me know that my shipping (which on digital items should be free, of course) had somehow reset to be $4+! Not cool, Robert Frost. Something clearly went wrong at Storenvy, but it's been fixed since then and I've been once again enjoying sharing designs. I hope you'll
check the shop out
. New designs are in the works and I plan to add a few more throughout the Summer!