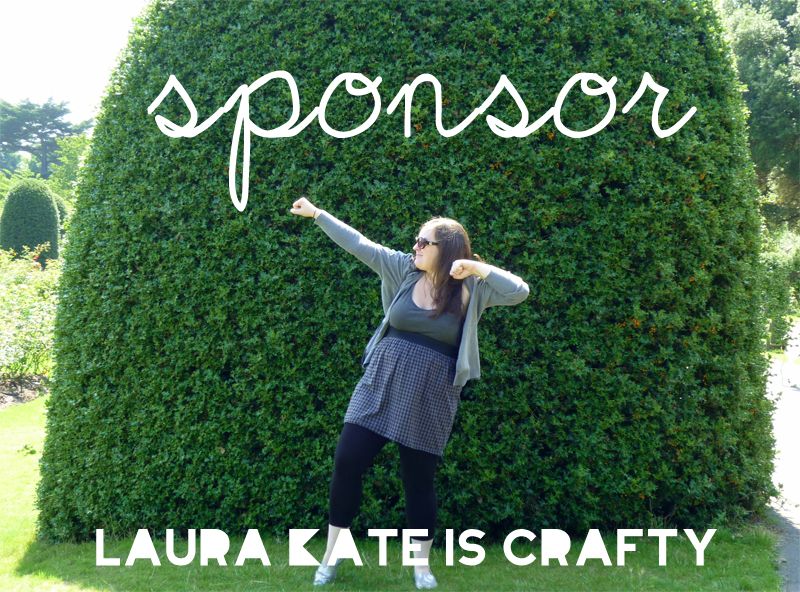 Writing here at
Laura Kate Is Crafty
is something I love. I enjoy the way that blogging can be a totally solitary activity in the writing and photographing and putting-it-all-together, but then suddenly the words I've written and the photos I've shared strike a chord in someone enough that they want to leave a comment, or click "like" on Facebook, or start to follow the blog regularly on Bloglovin'. Though I've been writing here for almost 7 years, it's really in the past year that the blog has really grown to develop regular readership and see numbers of any big significance. I love you, my readers! I love the blogs that I read regularly, as well. Interacting through comments, entering contests, and sponsorship are things I enjoy doing. Perhaps some of you with small, growing blogs or even big and sparkly blog would consider sponsoring here in November.
All the details are on my
sponsorship info
page, but the basics are this:
3 sizes available
some offer bonuses like giveaways, tweets, etc.
all include a monthly mention
prices are super-de-duper affordable with a swap option available, too!
--------------------------------------------------------------
In October, I'm happy to have three fabulous returning sponsors:
----> At
Every Hour Here
, Denise has been doing a lot of Project Life blogging, but I got super excited about the
Polaroid Quilt
she's working on. How cool is that?
----> Over on
Misfit Isle
, Alli shared a bit about her adorable
pet hedgehog
. My sister kept tiny hedgies for years, so seeing that post brought a big smile to my face.
----> Lauren from
Tastes Like Love
offered a little peek
into her home
recently. She's got a great style and the quirky decor of her place is adorable.
Please take a minute to check out my October sponsors' blogs and maybe next month I'll be sharing about your blog or business!
Don't forget that you can connect with me in lots of ways!
Bloglovin - Facebook - Pinterest - Twitter - Instagram