Holy crap, kids. That's me pretty much current on my Project Life spreads both in creation and in sharing! This makes me so incredibly happy.
Week 42. Another week where I was without much in the way of any documentation. Almost no photos. No tweets of note. I was still lacking a new phone, so no Instagram possible from me. The boy came to the rescue with 2 photos. I had them across a few 4x6s and made it work. The Scot even did a little journaling. Woo!
We *did* manage to keep one bit of Friday night-related ephemera. Have you been to
Dirtyburger
? If not, you should. Nothing fancy or revolutionary, but excellent late night noshing.
Supplies for W42 included BH Seafoam + some washi tape. Ridiculously simple.
This was the week of our 1st anniversary. Yay! Being married is ace. Not pictured is the insert of anniversary cards (from each other and from family). I included a cut-down version of an image (from a promotional brochure) of the Rob Ryan lasercut I got from
The V&A
. We both like Rob Ryan a lot and he did this image especially for the museum. It now hangs in our bedroom. (The Scot made me 2 lovely shadowbox maps with hearts: WI and the UK. They're fantastic).
Supplies this week were mostly BH Seafoam, with 1 BH Jade card, 1 Studio Calico card (cut from a 12x12), some Basic Grey letter stickers, and a bit of washi.
Halloween week! We didn't do much for Halloween. Some news happened that I wanted to write about, but also keep a bit private - I really like using envelopes for journaling of this nature. Sometimes there are thing that you totally want to document, but perhaps don't want the casual flipper-through-er of your album to read without a bit of effort (or perhaps they won't even notice it's a journal card). So tucked away into an envelope in a pocket is ideal. I left this one without any ornamentation as it wasn't really happy stuff. Seemed weird make it shiny.
Although our Halloween was a bit quiet (we had an event the following Sunday - not part of Week 44), I wanted to include it, so I used the little jack o'lantern card from my
Fall Faces
freebie set.
Supplies for Week 44 were BH Seafoam, one of my own cards, a Recollections envelope, Hero Arts stamps, some washi, & I just realized I forgot to give a label to the bottom right photos from the Craft Beer Social Club night we attended. So they'll be getting a Martha Stewart label soon!
Onward to the 4th week I'm sharing! It started off with a late Halloween event on Sunday evening and ended with a fab party at a friend's flat. In the middle I was sick in bed with a cold, but forced myself out on Thursday to see our friend Dave's band,
Black Orchid Empire
, play in Camden. They fully do not suck. You might like to check them out!
This week I really was liking things on angles. I chose card to repeat the motif and used journaling and such to accent it throughout. Sometimes little elements help pull things together.
Supplies were simply BH Seafoam and some Martha Labels. Easy peasy week!

-----------------------
And now.......
If you're a regular reader of the blog, then you probably saw my
post last Thursday night
featuring my
new card set
. As a little holiday treat for fans of
Laura Kate Is Crafty
on
Facebook
, I'm sharing a mini version of my Ho Ho Holiday kit. All you have to do is like the page - and it's a great way to keep up to date with my goings on and projects!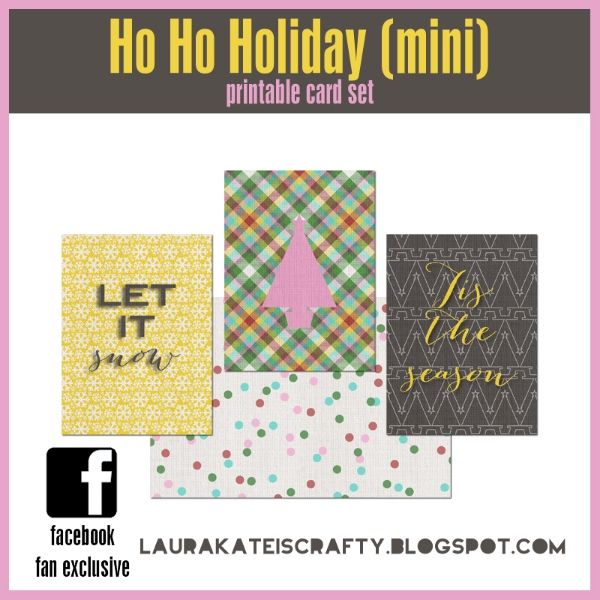 Now I'll get my brain back into Thanksgiving mode. Lots to prep for next week. We'll be having 10-12 people in our flat and I have to figure out where to put them all!
As I do each week, I'll be linking up at The Mom Creative for Project Life Tuesday.