Today is Ash Wednesday, the beginning of the Lenten season in the Christian calendar. Regardless of religious inclination, lots of people still join in with the tradition of a Lenten fast - giving up something for Lent. Lent is 40 days + Sundays and I've decided that this year I'm giving up sloth for those 40 days. No, not the adorable and fabulous slow-moving tree creatures, but the less adorable and slow moving couch creature that can be me sometimes. I'm making a pledge to myself (and to anyone reading) that I'll be exercising Monday - Saturday during Lent in some way or another.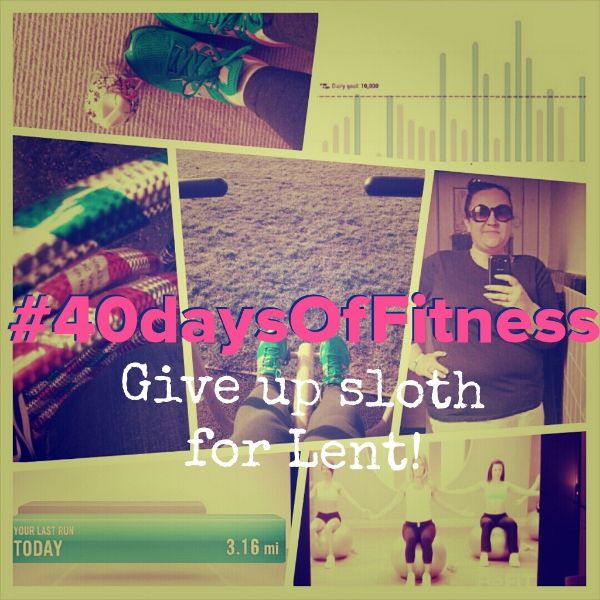 This morning I went to start my #40daysOfFitness (as I am calling it, though I'm 99% sure that's not a unique idea!) and put on the fabulous new feather print leggings I got yesterday and headed out to do a few miles of walking (I'm not a runner, but I do a good paced walk). Last week my left foot started feeling weird. It was rather noticeable at the wedding we attended on Saturday and when I use stairs. Within the first block of the walk, I was feeling pain. My foot was definitely finding new ways to bear weight to compensate. So I just changed my route and headed for the doctor's office (thankfully my local clinic has a walk-in element). I feared a stress fracture, but the doctor thinks it's just a strain. This isn't all good news, however, as I'm to wrap it and rest it for 7 days. So my sloth-free challenge will be more of the yoga and swiss ball variety this week. Which is ok. Anything is better than nothing (and I still got a mile of walking in)!
I invite you to join in with me! Walking, running, yoga, Pilates, biking, lifting, jumping rope, Zumba, hula hooping, roller skating, aerobics, WHATEVER gets you moving in a fitness-type-manner is a good thing. Here in London spring is seeming more and more like it's here and that means getting outside and enjoying the brief bits of sun as we can. In the US I know it's still like a Narnian winter, but there are lots of ways to get moving at home. YouTube is full of magic. I'll be posting on
Instagram
,
Twitter
, &
Facebook
and using the tag #40daysOfFitness and you can too! If you're a
Fitbit
user like I am (I have a Flex) and would like to add me as a Fitbit friend for some healthy step-based competition, send me a message and we can cheer each other on in that way as well! Together we can get a great start on establishing new habits or reinforcing those already in place. If you're a regular exerciser, maybe use the Lenten season to try something new!
Post a quick comment on this post if you'd like to join in with the 40 days! I hope you'll enjoy the challenge!